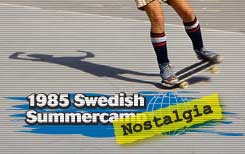 1985 Swedish Skateboard Summercamp Nostalgia

There is a milestone in the Swedish skateboarding scene, something that did not only effect the Swedish skateboarding scene, but also skating worldwide.

Ask any of the top European pro's from the early 1980's about their most memorable skateboarding experiences, and they will most likely mention the Summercamps in Sweden in the early 1980's. Ask the same question to some US pro's such as Rodney Mullen, Lance Mountain, Mike McGill, Tony Hawk, Billy Ruff, Neil Blender and more and they will also mention the Summercamps.

Many lived for these weeks. All other months, days and hours were just a long wait until the next summercamp.

It all started 1979 in Rättvik, 3 hours northwest of Stockholm and was in 1983 moved to Hägernäs, Stockholm. Now we are in the works of a film about one of these years: 1985, which was the last Summercamp held in Hägernäs (other Summercamps were held in Sweden and worldwide later on, but so far they have not even come close the the impact and uniqueness of the original).

So stay tuned, visit this site on a regular basis for the latest news about the progression of this very special one of a kind film.